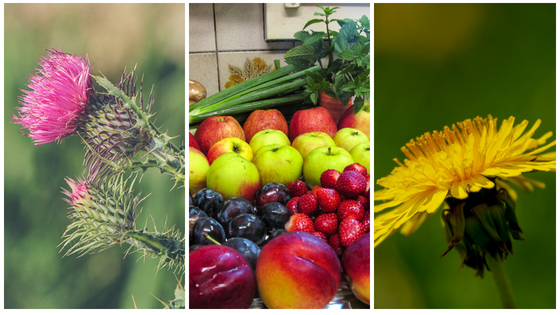 How To Improve Your Gallbladder Health
| Chimmu Augustine

Optimizing your digestive system is important for your health and well-being. All the organs in your digestive system work together to help you get enough nutrients from the food you eat. The gallbladder is one such organ, which actively takes part in the process. It is vital to take care of the gallbladder to keep your gut fit and fine. Well, you need to be better informed to make healthy decisions. So, let's find out more about the gallbladder.

Imagine a pear. Your gallbladder is of that shape. It is a small, pear-shaped sac under the liver. The gallbladder is in charge of storing bile, a fluid that helps the body break up and digest fatty foods. Once you finish your meal, the gallbladder releases bile through the common bile duct. The duct takes it to your small intestine. It sounds like an easy process. But, if the duct gets blocked it might be a different story.
Know Gallstones
Wondering what is capable of blocking the flow of bile? Usually, it is gallstones. The hardening of substances in the digestive fluid bile leads to the formation of gallstones. They are collections of cholesterol, bile pigment or a combination of the two. It can be found in the gallbladder or within the bile ducts of the liver. And the size? It can be as small as a grain or as large as a golf ball. Other than gallstones, the flow of bile gets affected by tumors in the pancreas, injury to the bile ducts or infestation by parasites. However, gallstones are the most common culprit.
Gallstones should be treated depending on its size. Medicines can ease the pain in a few cases. But, that may not be possible in case of large gallstones. They will block the duct, causing pain and discomfort. You will have to treat the condition. Cholecystectomy, the surgical removal of the gallbladder is the most common way to treat gallstones. Once you remove your gallbladder, bile flows directly from your liver into your small intestine.
Worried about the digestive problems without the gallbladder? Believe it or not, you can live without your gallbladder. Immediately after the surgery, your doctor might recommend you to eat a low-fat diet. Some people tend to have difficulty in digesting fatty foods. Until your body adjusts, it is best to avoid fatty foods. In most cases, there are no other digestive problems after the surgery. However, a few people have experienced an occasional loose stool after cholecystectomy. The release of bile directly into the small intestine is considered to be the reason for diarrhea. The bile can have a laxative effect, resulting in frequent bowel movements.
How To Optimize Your Digestive Health
Taking care of your diet will help you reduce the symptoms of gallstones. Add foods that are rich in B-vitamins and iron such as whole grains and dark leafy greens in your daily diet. Never miss antioxidant-rich foods, including fruits and vegetables. Eat foods high in fiber and avoid refined foods. Also, try to identify and avoid allergenic foods.
Adjusting your diet is not the only remedy. If you have gallstones, you can seek the help of supplements to optimize your digestive health. But remember, discuss with your doctor before you adopt complementary remedies to your treatment.
Probiotics
You might have heard that not all bacteria are bad. Yes, that is true. Probiotics are live bacteria that can keep your gut in good shape. They help you maintain a healthy balance of beneficial bacteria and keep your digestion on track. Proper digestion makes sure that the bile secretion and its release are in order, thus, avoiding circumstances for gallstones. An imbalance of good vs bad bacteria in your gut may contribute to gallbladder dysfunction. Probiotics can divert such a situation.
Digestive Enzymes
Converting our food into essential nutrients, digestive enzymes have the potential to optimize your digestive health. They are of great help if your gallbladder has been removed or if you have a gallbladder dysfunction. They can reduce the stress of the gallbladder. Lipase, which can digest fats, might be effective for you. An ox bile supplement is also a good choice as it supports the growth of good bacteria. Your digestive system needs to work properly to send messages to the gallbladder to contract and release bile. Digestive enzymes are capable of addressing any issue of indigestion, thus, taking care of the system.
Milk Thistle
Milk thistle is known for its efficiency in treating digestive and liver problems for centuries. Silymarin is the active ingredient in milk thistle. And it is a powerful antioxidant. Studies have shown that silymarin is effective in protecting the liver from toxins.[1] Also, evidence suggests that milk thistle improves gallbladder conditions.[2] Milk thistle is used to shrink gallstones. According to preliminary clinical trials New York University Langone Medical Center, components of milk thistle helps to prevent gallstones from forming. Silymarin contained in milk thistle helps to decrease the cholesterol levels in bile, thereby stopping gallstones formation. It has no reported side effects in adults when used in moderate amounts. Milk thistle products are available in various forms such as capsule, powder, and liquid extract.
Dandelion
Historically, dandelion has been used to treat gallbladder, bile duct, and liver disorders. Today, it is often used as a dietary supplement for minor digestive conditions. Dandelion supplementation promotes the flow of bile. The credit goes to its leaves and roots. Sometimes even the whole plant is used in capsules or extracts. It is generally considered safe to use dandelion.
Artichoke
Another herbal remedy for your gallbladder disorders! Modern studies have confirmed the stimulating properties of artichoke extracts on the liver and gallbladder.[3] The leaf extract of artichoke supports the gallbladder and liver. Its medicinal qualities can also soothe gallbladder pain associated with gallstones. It promotes bile production and stimulates its flow. With increased bile production, the threat of gallstones is minimal.
Always remember, you should inform your healthcare provider about any complementary health approaches you use. This will help you ensure the safe use of these supplements for your better health.
References
1."Milk thistle (Silybum marianum) for the therapy of liver disease ...." Accessed August 29, 2018.
2 "Milk thistle — Does it do a body good? - Go Ask Alice! - Columbia ...." Accessed August 29, 2018.
3. "Health-promoting properties of artichoke in preventing ... - NCBI." Accessed August 29, 2018.